Call for proposals 2020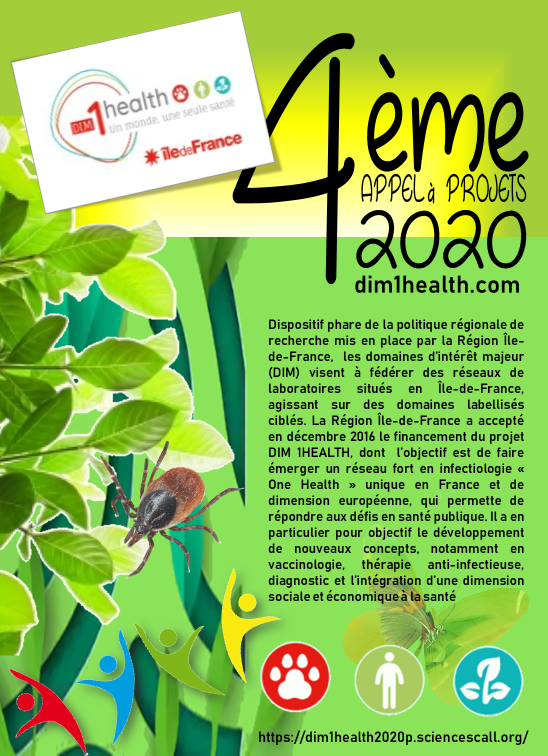 DIM1HEALTH: A new annual call for tender to support infectious disease research in Île-de-France until the 15th May. Through the environmental health, human health and animal health triad, DIM1HEALTH targets the actions involved in the «screening-surveillance-treatment-prevention-prediction» chain, while taking into account the societal demand. DIM1HEALTH supports collaborative projects, symposiums and investments.
DIM1HEALTH scientific council took the decision with the emergence of the COVID-19 crisis to reserve at least 20% of the budget (€ 500k) in priority for research on the fight against coronaviruses for this new tender with by the Ile de France region of 2.7M€ .
FOR THE 2020 CALL FOR PROPOSALS PLEASE SUBMIT YOUR PROJET HERE BEFORE THE 15th May: https://dim1health2020p.sciencescall.org/
Given difficulties in obtaining signatures from institute financial services with the gradual resumption of activities, the letters of financial commitment for DIM1HEALTH files may reach until June 30, 2020 regardless of the filing of the scientific file on May 15, 2020. The signatures of the financial services will be sent to DIM1HEALTH@anses.fr
Calendar
Estimated timeline
1rst february 2020


Call for proposal opens

15 may 2020 at midnight


Submission deadline

July 2020


Projects sent to external evaluators

August 2020


Results of final selection announced