Call for proposals 2021-2 INVESTMENTS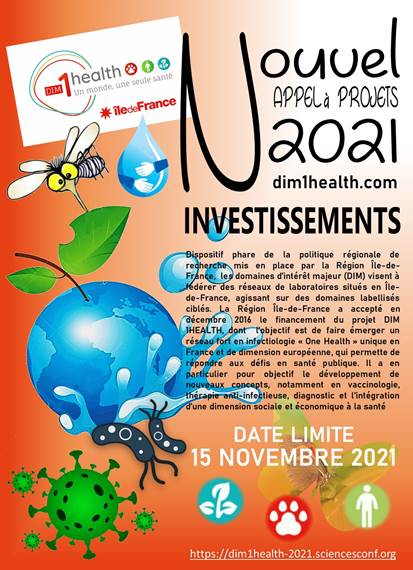 DIM1HEALTH: A new annual call for tender to support infectious disease research in Île-de-France until the 15th November. Through the environmental health, human health and animal health triad,
DIM1HEALTH targets the actions involved in the «screening-surveillance-treatment-prevention-prediction» chain, while taking into account the societal demand. DIM1HEALTH supports collaborative projects, symposiums and investments.
FOR THE 2021 CALL FOR PROPOSALS PLEASE SUBMIT YOUR PROJET HERE BEFORE THE 15th November: https://dim1health-2021.sciencesconf.org
Calendrier
prévisionnel de l'appel
15 September 2021


Call for proposal opens

15 November 2021


Submission deadline

November 2021


Projects sent to external evaluators

December 2021


Results of final selection announced